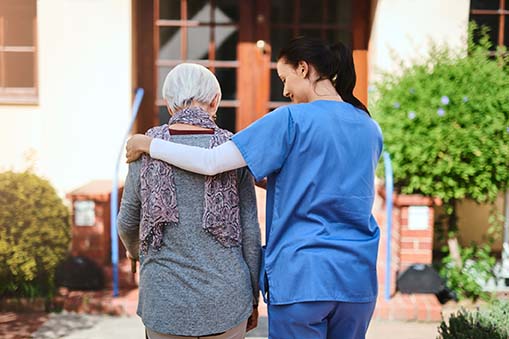 Why Give
The need to expand long-term health care services for the aging religious in Northeast Ohio was first identified in a study conducted by the Diocese of Cleveland in the 1980s. The Sisters of Charity of St. Augustine responded to this need by developing and implementing plans for conversion of their Mt. Augustine Motherhouse into a facility dedicated to serving the aging religious. Regina Health Center (RHC) opened in 1993 as the first collaborative health care facility of its kind in the United States.
Today, Regina Health Center meets the long-term health care needs of members of several Northeast Ohio religious congregations, clergy from the Dioceses of Cleveland and Youngstown, and lay persons seeking a faith-based community environment.
See why other donors give to Regina Health Center by visiting our Donor Testimonials page.
Please Consider Regina Health Center for Your Giving
Members of the religious orders we serve have made significant contributions to Northeast Ohio's communities by serving in the medical, teaching and administrative professions at many of the region's schools, hospitals, universities and social service agencies.
One of the most pressing issues facing the Catholic Church, its religious communities and Regina Health Center is how to care for a fast-growing population of elderly religious.
While commitment to providing quality services remains at the forefront of the RHC mission, care for the aging religious population has also become increasingly expensive due to the following factors affecting revenue:
Rapidly rising health care costs
A significant gap in the amount of reimbursement from Ohio's Medicaid program (versus the cost of care) which has an increasingly negative impact on the RHC budget
Serious decline in the number of non-elderly (working age) religious members available to help support the costs of services
A shortfall of financial resources at the parish, congregational and diocesan levels to support their care
The economic downturn
For more information on philanthropic support of Regina Health Center, please contact: