COVID -19 Update - Clarification on RHC Visitation
---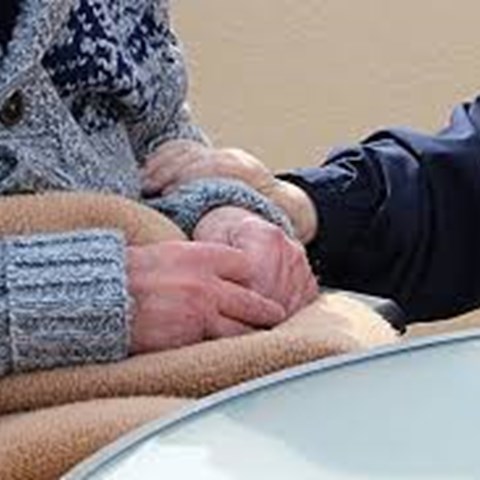 23 March, 2021
Dear Regina Health Center Community,
I am writing once again with promising news: Regina Health Center continues to be free of coronavirus cases, for both residents and employees! While we are certainly not out of the woods yet, we hope and pray that this COVID-free status will be our "new normal" until the pandemic is behind us.
Thanks to the decreasing number of COVID-19 cases throughout the states, the Centers for Medicare & Medicaid Services (CMS) and the Ohio Department of Health (ODH) have relaxed the visitation standards for nursing homes and residential care facilities. As many of you already know, indoor visitation has resumed here at Regina, to the relief and delight of residents and loved ones alike. All of us at RHC rejoice with you that we are able to witness many happy reunions.
However, there are still restrictions regarding visitation; we have not received permission to resume "business as usual" as we knew it prior to the pandemic. Complicating this situation are comments made by Governor DeWine during a recent press briefing. Like us here at Regina and all of you, the Governor clearly longs for the day when restrictions will be lifted at nursing facilities. But it's important to note that no new orders have been given; the visitation order issued by CMS and ODH continues to be the law of the land, until a new order is issued. Many people heard the Governor's remarks and concluded that they can, once again, go up to their loved one's room and visit, as before. Unfortunately, this is an inaccurate conclusion. In some, small facilities, the only option for indoor visitation is in a resident's room (assuming that it is a private room). This exception was made to ensure that residents of small facilities are not deprived of in-person visits, merely because of the physical space limitations. Here at Regina, we are blessed to have alternate visiting space, especially since many of our resident rooms are not private.
Visits at Regina Health Center still require advance registration via the "Sign-Up Genius" website. (Click on "angel garden visits" on the RHC website: www.reginahealthcenter.org) For the health and safety of all of our residents and staff, indoors visits will continue to take place on the ground floor. Blessedly, hugs are, once again, OK. Visitors will enter and exit in the rear of the building, minimizing contact or exposure to other residents. I know that this is welcome news for many family members who have expressed concern about members of the general public, whose vaccination status and health habits are unknown, entering the residential spaces where their loved ones reside. For their sake, and for the safety and well-being of all Regina Health Center residents, we are happy and relieved to have alternate visitation space available.
Like you, we hope and pray that very soon we will be able to welcome all visitors, as before. Until then, thank you for helping us maintain a safe environment for our residents. Thank you, too, for your continuing support of our staff, as they perform the important work of caring for your loved ones. Please keep us in your prayers, and we will keep you in ours. God's blessings to you!

Sincerely,
Deacon Mark Yantek
Executive Director
---