Rehab Spotlight: Short-Term Inpatient Stay Helps Patient Get Back on Her Feet
---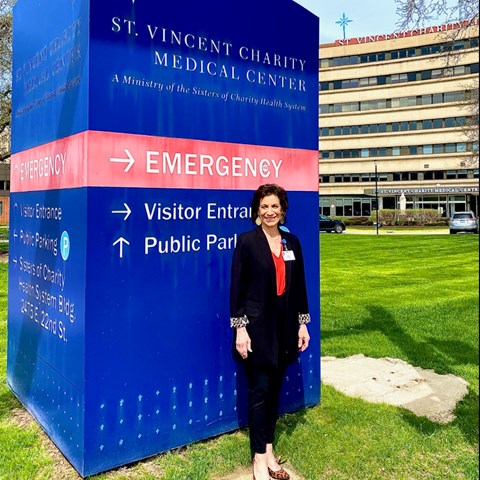 The following article appears in the most recent issue of The Heart of Regina Health Center newsletter. Read the full newsletter here.
Short-Term Inpatient Stay Helps Patient Get Back on Her Feet
After fracturing her pelvis, Anita Zaccaro was unable to return home after a hospital stay and spent 10 days recovering at Regina Health Center. Following is her account of the experience she had and the care she received.
Midway through a great group workout this past summer, I took an unfortunate spill and ended up with a fractured pelvis. After my initial emergency room visit at St. Vincent Charity Medical Center, my x-rays dictated my next move. Five days of bedrest. That was not the news I wanted to receive. Being the physically active person that I am and the amount of work on my desk, I started questioning how would I be able to manage everything. The incredible nurses and rehab staff put my worries to rest. They set me up in a lovely room with downtown Cleveland as my backdrop, a laptop and I managed just fine. Upon completion of my bedrest, I was informed my injury required some more TLC. Honestly, I just wanted to go home, seeking semblance of normal. This just wasn't possible. I am extremely grateful for Sr. Miriam Erb for referring me to Regina Health Center.
So, off I went, trading my city view for the Richfield countryside where I would navigate the next 10 days of my journey. From the instant I arrived, the admitting staff had me feeling welcomed and comfortable, all of my anxiety just fell by the wayside. I would love to name everyone individually because every single person had an impact on my stay. The nursing department went above and beyond to make sure I was well fed, looked after and reassured. This was my first experience with an injury of this magnitude and it was strange not being able to take care of myself. I would never have been able to do what they did for me at home. The rehab department gave me the personalized attention needed to deal with my injury, maintained by medicine, calmed me when frustration set in and praised my progression. They prepared me for my transition to home, provided me with the necessary medical equipment and I felt confident on my own.
I sincerely thank the entire staff at Regina Health Center for their dedication to making lives better. I am back exercising and feeling great. I continue to do the recommended rehab exercises and can't say enough thanks to everyone there.
Anita Zaccaro is the payroll manager for the Sisters of Charity Health System and a 24-year employee of St. Vincent Charity Medical Center.
---